Wed Nov 09 2022
10 common mistakes of a web designer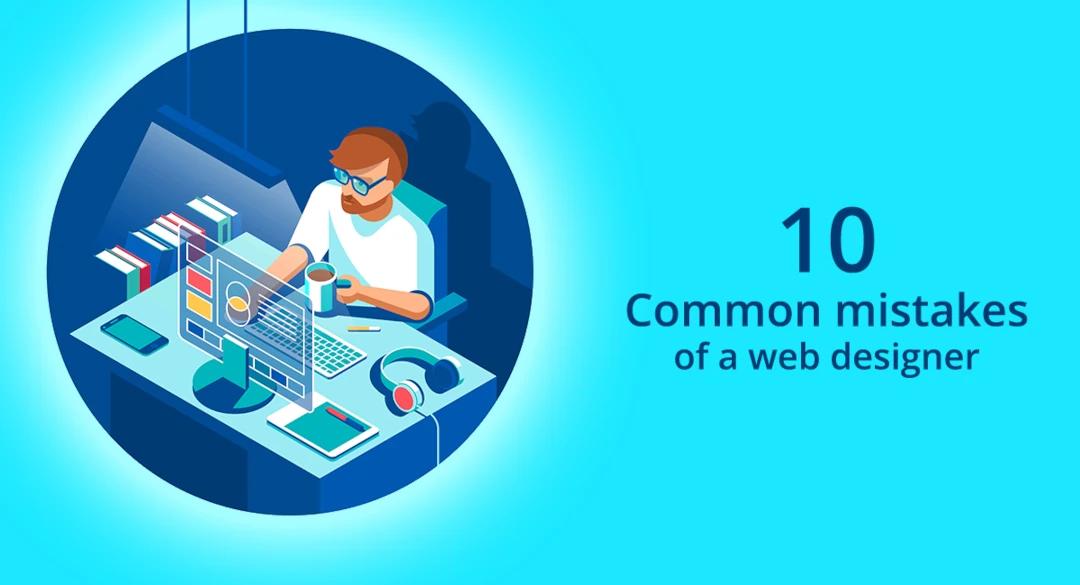 Web design, at its essence, is a form of art. Most business owners design their own websites to save money and have more control over the project. web design looks to give its viewers an experience.
Web design is meant to combine form and function in a way that makes a website enjoyable, navigable, interesting and usable.
With a recent surge towards mobile browsing and cool new design options, the web has seen millions of websites receive facelifts over the past few years. It has also led to a lot of poor web design choices that prevent consumers from fully connecting with brands. From unattractive homepages to weak content, poor navigation, and countless errors, there are a number of things that the average website can improve on.
Poor design concepts leading to a website that's less than ideal. If your website isn't quite as well built or thought out, then you might have noticed that the traffic has never really met your expectations, or perhaps you've noticed that the visitor count has been in decline for a while. In either case, you could have fallen into one of the many traps that web designers try so hard to avoid.
In 2019, web design will make or break the company's goals. Not just the way it looks, either the way your website functions and the ease in which visitors can navigate it are also on the table.
Here you will find a list of top web design mistakes to avoid at all cost in 2019.
1. Unorganized content layout
Everybody knows that a messy page prevents users from quick scanning. You should always keep in mind a clear hierarchy of your design and don't place the users into a confusing position when they don't know where to look first. Guide their eyes through the page and it will be a success.
2. Incomplete input validation
Mistakes stemming from validation happen all too often. One of the most common consequences of this mistake is SQL Injection. Remember that most front-end development frameworks provide out-of-the-box validation rules that are incredibly simple to use. Additionally, most major back-end development platforms use simple annotations to assure that submitted data are adhering to expected rules. Implementing validation might be time-consuming, but it should be part of your standard coding practice and never set aside.
3. Not SEO friendly
Many web developers believe that they know enough about SEO and that it is not especially complex, but that's just not true. SEO mastery requires significant time spent researching best practices and the ever-changing rules about how Google, Bing, and Yahoo index the web. Unless you constantly experiment and have accurate tracking and analysis, you are not an SEO specialist, and you should not claim to be one. SEO is not just related to setting good content, tags, keywords, meta-data, image alt tags, site map, etc. It also includes eliminating duplicate content, having crawlable site architecture, efficient load times, intelligent back-linking, etc. You should think about SEO from the moment you start building your web application, or you might find that completing your SEO implementation project means rewriting your whole system.
4. Poor navigation
It's good practice when site visitors always know where they are at any given moment and have the possibility to travel through website pages freely and swiftly. Designers solve this issue in different ways. Some include pagination into the design, others prefer one-page layouts. The availability of different filters that simplify customers' search works well either.
5. A dreadful CTA
Your CTA is the gateway to your business. It commands your visitors to do something: Click here! Get a coupon! Learn more about this product! It's very important that your CTA tells visitors what they need to do. There should be enough information that visitors know what they're going to get from taking action and what information they need to provide. On the other hand, there's a fine line between being helpful and being annoying. Make sure your CTA is concise and tells customers exactly what to do. Keep form-filling to a minimum, and give them a few minutes on your page before the CTA shows up.
6. Irresponsive design
Since modern searches are conducted on smartphones and tablets, having a website that can display properly on those devices is of paramount importance for businesses. But, recent estimates show that less than seventeen percent of the world's 876 million websites have been created with responsive web design. Since Google introduced a search update that penalizes non-responsive sites in mobile searches, this is a major problem for those who generate leads online.
7. Issues with font size, style, and color
If your users can't read your blog's text or your main navigation menus, then you have a big problem. You need to use the best colors and fonts for maximum readability so that your users can get the most information out of your site with the least effort. If a mobile user cannot read the font, or if the font does not auto adjust to the right size and formatting, then you are going to lose them before they complete your Call to Action.
8. Too many pop-ups
Most of the users get frustrated when they get interrupted by a pop up after they have clicked on a link, or started to engage with the content. These pop-ups are intrusive to the web users and can make your website nearly unusable. In order to avoid such a situation, you should place these pop-ups logically on the screen.
9. Not HTTPS (secure)
Data breaches and hacks are becoming commonplace, and website users know it. So, not having a secure website is like waving a red flag for both search engines and cautious website visitors. And no, it doesn't matter if you don't have an e-commerce site. If you ask for any personal information from email and phone number to first and last name your site needs to be secured. If not, Google and other search engines will push your website further down in the search results and limit your online visibility.
10. Not updated
Keep in mind that clients searching for an expert web designer, will study their company websites carefully. An up-to-date, user-friendly website is the face of your agency and your prospective customers will decide if they want to work with you depending on their impression.
Stock photo from Dmi T