Fri Aug 05 2022
10 Reasons Why WooCommerce Is Fit for eCommerce Development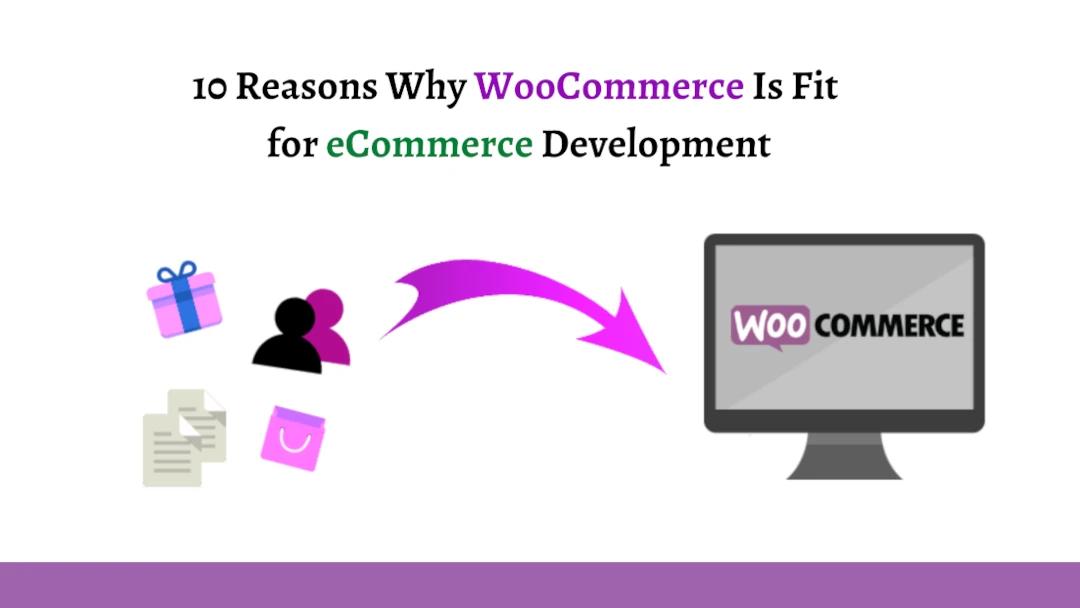 With the eCommerce industry's rapid growth, it has become essential for every store to be digitally available. The size or scale of your store doesn't matter. You need to be available online to reach potential customers who cannot visit your retail store.
Therefore, you need to build your eCommerce store or website to reach out to your potential customers. But, due to various available technologies, choosing the right platform and eCommerce development company for your store may be difficult.
With WooCommerce, you will select the right platform for your eCommerce store development, as it offers various features and benefits. This blog will discuss why WooCommerce is the best fit for your eCommerce store.
Reasons To Choose WooCommerce For eCommerce Development
WooCommerce is among one of the most popular plugins of WordPress for eCommerce development services. It is an open-source platform that offers various customizable features and is great for SEO-optimized websites. Integrating WooCommerce with WordPress can provide you with robust open-source community support.
1. Open-Source
WooCommerce is an open-source plugin, which means its source code is available to all users and is free to modify. Being an open-source plugin, it is cost-effective, user-friendly, reliable, flexible, and scalable while being licensing and error-free.
It lets you build a budget-friendly, well-performing online store. Therefore, WooCommerce development services are ideal for those who want to develop a cost-effective, high-quality website. Using it, you can also create a sales-driven, hassle-free, highly customizable online store.
2. Flexible and User Friendly
WooCommerce offers easy customization of code and content. It provides two customization methods, a plugin, and a child theme. Plugin customization is used for minor changes, whereas, for major changes, a child theme is used.
This plugin provides an opportunity of turning your website into an online store. It also offers various WordPress WooCommerce themes, therefore, a unique eCommerce website can be built using customizable themes. The plugins can be extended based on required functionalities like product handling, payment, and shipping.
Developers can create a flexible and user-friendly website when you seek assistance for custom WooCommerce development services. It will allow you to make changes to your online store seamlessly.
3. Scalable
When building your website, it is essential to think about the future of your business or eCommerce store. The right eCommerce platform should be scalable to meet growing business needs and complexities, and adaptable to new technologies.
Using WooCommerce, businesses of all sizes can create their own online storefront. Thousands of products can be supported without much difficulty on this platform. It can also deal with heavy traffic thanks to an optimized database, CDN, etc.
A professional and reputable WooCommerce development company can offer cutting-edge features, plugins, and functionalities to your eCommerce store. These can help you build a scalable store to meet future growth needs.
4. Extensive CMS Features
Content is equally crucial for eCommerce marketing as other aspects like sales and search engine optimization. WordPress's user-friendliness has made it the most widely used CMS for newcomers and web admins worldwide.
WordPress and WooCommerce offer a good number of content management options, such as email marketing, landing pages, blogging, etc. WooCommerce is also compatible with SEO plugins like Yoast SEO to make its content search engine optimized.
Therefore, seeking professional eCommerce website development services offers an extensive range of CMS features to keep you ahead of competitors. These include flexibility, scalability, etc., features.
5. Higher Security
It is believed that open-source platforms are unsafe, but that's not the case with WooCommerce. Instead, it is one of the safest eCommerce platforms. The constant update of security patches makes WooCommerce a secure platform. It is monitored by one of the safest security plugins, Sucuri.net, for a safe online experience.
Additionally, WooCommerce offers an SSL certificate for WordPress users to be on the safer side. You'll also have a more reliable and safer online business environment with regular updates to your WooCommerce platform and plugins.
An eCommerce development company can build a secure store that will be protected from unauthorized access.
6. Multi-Payment Gateways
WooCommerce offers easy, secure, and fast payment management, which means customers won't have to log in to separate payment processors. WordPress allows you to track deposits, monitor transactions, handle disputes, and accept credit and debit card payments directly.
Therefore, a professional eCommerce website development company can offer you the ability to integrate multiple payment gateways. They can help you build an online store where customers can get several payment options during checkout.
7. Performance and Speed
Website loading speed is an essential component of performance. In fact, there's no point how good your website is if it does not load faster. Based on a survey, a website that does not load in three seconds loses its potential buyer.
Along with speed, a website needs to be search engine friendly. SEO-friendly websites ensure that search engines can index the content on each page efficiently.
WooCommerce automatically becomes SEO-friendly, being a WordPress plugin. A reliable eCommerce web development company's developers can build a performance-driven WooCommerce store that also focuses on your website's speed. It will ensure a smooth shopping experience for the customers.
8. Advance Inventory Management
Another reason WooCommerce is perfect for eCommerce development is its advanced and easy inventory management. It helps entrepreneurs easily track the product's status and notifies them about low-running or out-of-stock products.
With WooCommerce, you'll be able to manage inventory after a refund or purchase, rather than having to pay a hefty fee.
WooCommerce allows two-tab inventory management – the WooCommerce tab and the Product tab. A WooCommerce development company also helps you build a website where you can get stock details effortlessly and efficiently. They can also easily manage refunds, orders, and emails.
9. Pricing
Cost is a crucial factor, especially for startups. Due to its free nature, WooCommerce can be used by any business or entrepreneur without committing to expensive support contracts or proprietary software licenses.
However, third-party applications for payments with WooCommerce and other extensions may charge fees, but this will not be transferred to WooCommerce. Furthermore, you will also require hosting to power your eCommerce store.
Partnering with an eCommerce development company can have additional costs, but will be cost-effective in the longer run. They can build a market-ready and feature-rich website that is adaptable to new technologies.
10. Powerful Analytics
Analytics is an essential eCommerce tool that business owners use on a large scale. Business owners may find analytics management hard and hamper their trade growth. WooCommerce offers built-in analytics to know about your customer and their interaction.
WooCommerce offers an extensive set of intuitive, cost-effective, and clean interfaces for all types of clients. It helps locate potential customers' activity and interaction with products and stores in general.
Therefore, businesses can understand the analytics report easily as the data is presented graphically. It also contains sales data in numbers and graphics that make it easy for companies to analyze the data.
Final Words!
These were the top ten reasons to choose WooCommerce for your eCommerce website or store development. It offers a great combination of affordability, customization, easy installation and setup, and user-friendliness.
Although it is a user-friendly platform, partnering with an eCommerce development company can offer you additional benefits. They have experienced professionals who can build a market-ready website using the latest technologies.