Sun Nov 24 2019
Best video players for Windows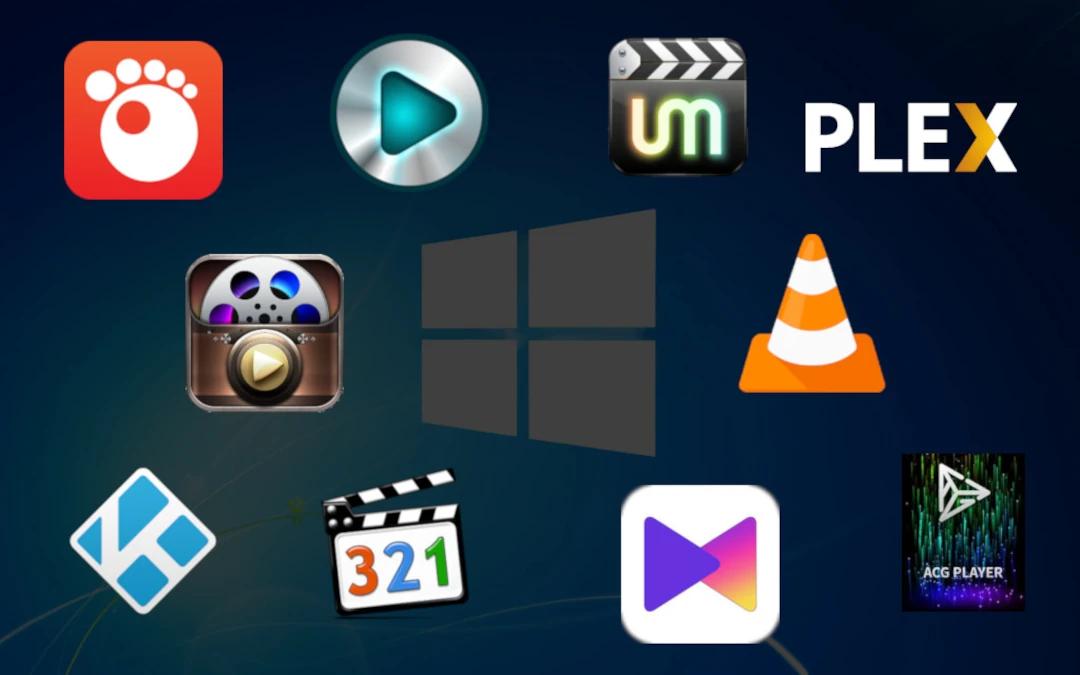 Media players have been around for the time, and help people thoroughly enjoy the movie. A feature-rich software, a media player also needs to be simple, intuitive, and lightweight. If we take these factors into account, there are tons of software available for Microsoft Windows platform, choosing the right one for your computer isn't an easy task. So, here, we will make the list of best media player that help you to choose easily for your Windows PC.
Let's take a look at the list

The best video player in the world is VLC that can play almost all multimedia formats. The application has excellent support for subtitles, equalizer, playback controls and multimedia formats. It provides the latest plugin for the task. VLC is open source and is available in two forms, the first is the traditional version, it runs as desktop software, and the other is the Windows App, which is available in the Windows store.
It is one of the most popular and best-rated video playback software. The great diversity of tools and personalization elements that it brings are unrivaled. It has features such as frame statistics, debugging and the extensive set of processor configuration tools, among others. MPC-HC has support for a wide selection of audio and video codec formats from the main options such as WAV, WMA, FLV to MPEG, AAC, and DivX, among others. Plays with variables such as output range, color management, VSync, GPU control and audio/video decoders among a lot of other options.
The KMPlayer is known as being one of the oldest players that are available on the Windows platform. It should not come as a surprise that over the past couple of years, it has matured a lot. KMPlayer start was rather modest, with the media player only having the necessary features. The best part about it is that all the features are available in the free version as there is no paid version for it. It supports video playback at higher resolutions like QHD and UHD. 3D support is also included. The KMPlayer is among the top rated video players for windows, it is simple, works well, plays almost every format, and does not create issues like crashes, or lag.
DVDFab Player 6 has been developed into the sixth-generation player. With this 4K Blu ray player software, also a BD/DVD/Video player, you can open any media files as you want. Moreover, it supports navigation menu when you are playing the disc files. Don't miss its HDR10 function, which leads you to find a better video world. Now, open your favorite disc or MP4/MOV/AVI/MPG video files using this player, and then watch it on your PC or TV. Enjoy the cinema-equivalent audiovisual experience.
PotPlayer, formerly developed by Daum, but now managed by Kakao, is a lesser-known media player from South Korea. If you mainly watch Blu-ray videos, choose PotPlayer. But if you want to tweak options and customize to your liking, PotPlayer lets you. In fact, you'll find it packed with more settings and lots of advanced features like scene previews, bookmarks, clip recording, and more. Supports most media codecs. Supports playback from files, discs, external devices. It supports online streaming with most mainstream protocols. Better handling of large files (Blu-ray) and cutting-edge formats.
Kodi, formerly called XBMC, is a free and open source media player. It's a highly customizable media player that you can use on your laptop or desktop to get a media center experience. This contender for the top media player for streaming content is even better if you're using it with an external, larger display because of its 10-foot user interface. Kodi has been in the headlines due to pre-loaded Kodi boxes and add-ons that support piracy. Kodi plays almost all popular video and music formats, podcasts, and other digital media stored locally or on the internet. Kodi was independently developed and called Xbox Media Center for the 1st gen Xbox gaming console. This recommended media player also has plug-ins that can be used to expand its features and include functionalities like Netflix, YouTube, Hulu, Veoh, etc. Kodi's source code is open source and developed by a global community of unpaid volunteers.
The Universal Media player or UMPlayer is a video player for windows that comes with a recommendation by a lot of people for the fact that it is lightweight. The video player is also hassle-free for people looking for that experience and has some decent features. These features can complicate your experience. UMPlayer has some decent features, to begin with. The video player is open source. It supports multiple codecs. Wide support for formats. You can choose media source from multiple services like YouTube. These features are enough to make the UMPlayer one of the most popular media players that is available on the market at the moment.
In ACG player, you'll notice is the simplified interface and touch-based controls. Tap the top half for Play/Pause, tap the bottom half to toggle the controls. Swipe left-right to rewind and fast-forward, swipe up-down for volume. Advanced features include gesture customizations, multiple window mode, playlist management, online stream playback, and the ability to tweak subtitle appearances and animations.
GOM Media Player serves as an excellent alternative for everyone who does not want to use the Windows Media Player, or the mainstream video players that are available. It has a nice list of features, allowing the users to customize their movie watching experience. GOM media player does come with a list of standard features that the users will enjoy. It keeps everything simple, making sure that there is not much confusion. GOM Media Player supports multiple formats. It offers advanced UI customization and allows you to find the compatible codecs. Wide support for operating systems.
Plex lets you easily take care of your large media collection, which can include anything like videos, TV shows, movies, photos, personal videos, and music, etc. It organizes your collections and makes it look great. With its EasyShare nature, you can pick and choose what to make public and give your family access. It offers the ability to pay for media servers. Supports flinging, and casting on different devices. Plex is available on multiple platforms. Let's you sync your content across devices so you can enjoy them later on. Parental control to keep sensitive media under protection. Plex is the next generation of video players for windows.
5KPlayer, the final entry on the list of recommended Windows media players, is a top-rated video player for Windows 10 as it's extremely compatible. It claims to play almost all kinds of videos and music without any plug-ins, and it actually delivers. Its interface is very clean and simple. It's also known for its more streaming options. 5KPlayer also lets you import videos and music from websites like YouTube, Facebook, Vimeo, MTV, etc. It goes without saying that it's compatible with common formats like MP4, MOV, M4V, MP3, AAC, etc.
Hope, you will find your choice. If you know any other player as best that we left out, then, please share with us in the comments. Thank you!