Fri Oct 07 2022
How to Create Appealing Content Using AI Article Rewriter Tools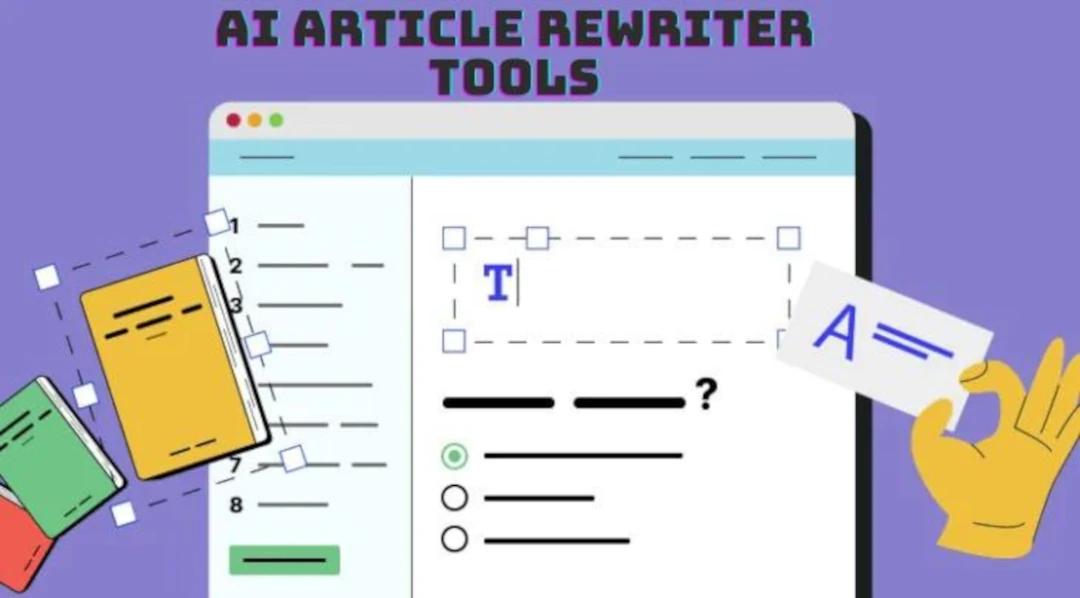 When rewriting, the first thing that pops up in a writer's mind is getting rid of plagiarism. Various article rewriters are available online, and all work on the same principles of Artificial Intelligence and Natural Language Processing. But how does this technology function to present results which are better than a human writer?
Natural Language Processing provides an extensive range of vocabulary, which brings various alternative words and phrases to exchange in a sentence or a paragraph. These changes can vary in an article rewriter depending on the writing style one chooses. Each word has dozens of synonyms against its meaning which can be formal or easy to understand.
The functioning of different article rewriters can vary from each other depending on the number of options offered by them. In this article, we will guide you on how to create appealing content using AI article rewriter tools. We will also present some practical uses and applications of these tools in the marketing industry.
Creating Appealing Content with AI
Here we have mentioned a step-by-step process on how you can create unique and readable content with an AI article rewriter.
The first step involves providing the content input to the online tool. You can paste the content or upload any text document file by selecting the upload button.

Now you have set the writing style and select the appropriate language from the menu.

Click the 'Rewrite Article' button, and a freshly written version of your previous content will be given as an output.
You can choose to download the rewritten content in a document file or choose to rewrite the output content again if you are not satisfied with the results.
Why Should We Use an Article Rewriter?
AI article rewriters work on Artificial Intelligence or pre-programmed algorithms to change the structure and synonyms of an article. This way, you can get a unique version of some pre-existing content. Besides avoiding plagiarism, here are a few other reasons to use article rewriters.
Enhance the Content's Quality

The most practical use of an article rewriter is to improve the content's quality to make it more readable and fluent. This practice is best to meet the reading persona of the targeted audience. Because when we are talking about creating appealing content, the main focus is on readability.


An

article rewriter can help improve your content's readability by changing its structure and wording. These tools are programmed against a specific writing style which enhances the flow of your content to make it more readable.

Update Old Content

Another practical way of utilizing an article rewriting tool feature is by updating your old blog posts or webpage content. This practice is good for staying prominent in the competition of rankings as search engine promotes freshly uploaded content on priority.
Moreover, the updated version of the same webpage content cannot be an identical copy. It has to be unique from something which was pre-published on the website. Therefore, an article rewriter can help to update your old webpage content so your webpages stay indexed among the top positions in SERPs.

Creating Content in Bulk

An article rewriter can make your workflow more efficient. Let us say that you have to write content in bulk by using the researched material you have collected from credible sources. Rewriting all this information to compile in your own words can be challenging unless you take assistance from the technology.
With the support of an article rewriter, you can complete hours of a task in a matter of minutes. It only takes a few clicks to rewrite thousands of words. Moreover, if you are unsatisfied with the results, you can rewrite content multiple times.
Conclusion
Technology has noticeably improved in the past few years to bring us innovative yet efficient solutions for rewriting. This technology is available online, making it much more accessible for everyone through the web browser.
Some writers consider article rewriting tools a phony way of creating content. However, the appropriate use of such technology depends on the operator. This article featured some insightful information on creating appealing content with the help of Artificial Intelligence.
We also discussed some practical reasons for using article rewriting technology. We hope you gained some valuable information about the working and usage of article rewriters.