Sat Aug 05 2023
Prestashop Vs Magento - Which Is Better For eCommerce Platform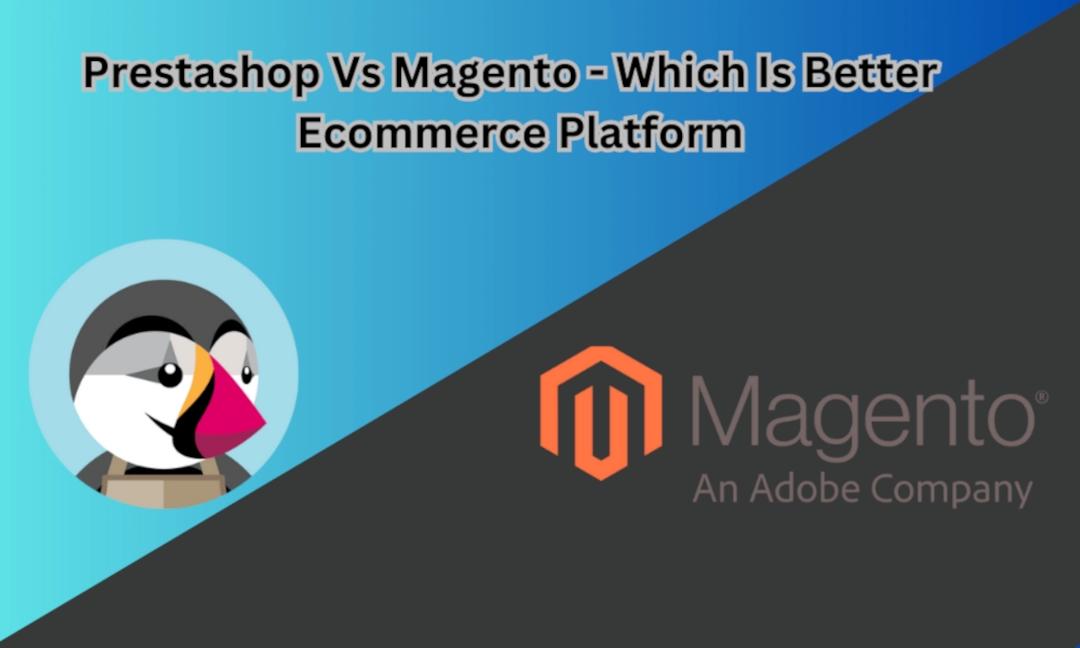 PrestaShop and Magento stand out as two of the most sought-after open-source eCommerce platforms accessible in today's market. Offering a diverse array of features and unparalleled flexibility, these platforms each possess their own distinct advantages and drawbacks.
PrestaShop, catering to small to medium-sized businesses, presents an excellent choice for those seeking a user-friendly platform. With a thriving community of developers and a wide range of third-party extensions, PrestaShop facilitates seamless setup and management, even for non-technical users. However, if you scale a business, you may have to confront a lot of challenges, which makes Magento a more suitable platform.
Magento, on the other hand, is a dedicated and scalable eCommerce website development platform. It is useful and the right solution for large-size businesses and bigger enterprises. Though it requires expert knowledge and technical expertise to set up a store in Magento, it is worth the effort.
Determining the ideal platform for your needs necessitates a thorough evaluation of your specific requirements. If you run a small to medium-sized business and prioritize a user-friendly experience with an expansive developer community and third-party extensions, PrestaShop emerges as a strong contender. On the flip side, if you are managing a bigger enterprise that attracts a higher volume of traffic, Magento is the suitable solution for that.
The selection of a feature-rich platform depends on the needs and requirements of a business. The owner has to consider the functionality he may need to display the products effectively. They may review the features of both PrestaShop and Magento and seek assistance from an expert to make a final decision.
Unveiling the Essence of PrestaShop:
PrestaShop stands as an open-source eCommerce platform celebrated for its intuitive interface and a wide array of features. It provides a set of advanced tools to allow merchants to efficiently manage a store. The features include adding products and managing customers, orders, and payments. the simple and easy user interface of PrestaShop has made it a preferred choice of most small to medium-sized businesses.
Get to know Magento:
Magento is a powerful and robust eCommerce platform that is developed with basic to advanced features. It is among the first few platforms that are exclusively developed for the eCommerce industry. It became an icon for the eCommerce setup ecosystem for its security and scalability. The rich features made it popular across the globe, whereas PrestaShop remained confined to the European market.
User-Friendliness:
When it comes to user-friendliness, PrestaShop takes the lead. It is an intuitive interface and straightforward setup process that allows beginners to effortlessly establish their online stores. In contrast, Magento presents a steeper learning curve, demanding a certain level of technical proficiency to maximize its features.
Customization and Flexibility:
In the realm of customization and flexibility, Magento excels. It offers an extensive range of themes, extensions, and plugins, empowering businesses to craft unique and tailored online stores. While PrestaShop also provides customization options, they may not match the extensive offerings of Magento.
Scalability:
Both PrestaShop and Magento exhibit scalability, but Magento reigns supreme when it comes to accommodating large-scale businesses and high volumes of traffic. Its architecture is purpose-built to handle complex product configurations and sizable catalogs, making it the preferred choice for enterprises.
Performance and Speed:
Both platforms demonstrate commendable out-of-the-box performance and speed. However, Magento's intricate architecture may occasionally lead to slower loading times compared to PrestaShop. To ensure optimal performance, it remains crucial to optimize your online store and hosting environment.
SEO Capabilities:
Regarding SEO capabilities, both PrestaShop and Magento equip users with a diverse range of features aimed at enhancing search engine visibility. These platforms provide options for customizing meta tags, and URLs, and optimizing content. Magento, with its robust nature, surpasses PrestaShop by offering advanced SEO capabilities and greater control over various SEO elements.
Cost and Maintenance:
In terms of cost, PrestaShop enjoys an advantage as an open-source platform that can be utilized for free. Nevertheless, additional expenses may arise concerning hosting, themes, extensions, and maintenance. Conversely, Magento offers both a free community edition and a paid enterprise edition, with the latter providing additional features and support. Smaller businesses may find Magento's enterprise edition more costly.
Support and Community:
Both PrestaShop and Magento possess active communities and support forums where users can seek guidance and assistance. However, Magento boasts a larger and more engaged community, resulting in better support and an extensive range of available resources. PrestaShop also offers support options, although they may not be as comprehensive as those of Magento.
Security:
Prioritizing security, both PrestaShop and Magento release regular updates to address vulnerabilities. The software regularly gets updated with security patches. Magento is known for its better security measures and user-friendly architecture. Both its free and premium versions are tested for strengthened security.

Mobile Responsiveness:
With the burgeoning prominence of mobile commerce, ensuring a mobile-responsive online store has become indispensable. PrestaShop and Magento both offer responsive themes and templates, enabling seamless adaptation to diverse screen sizes and devices. However, Magento's advanced responsive design capabilities provide superior mobile experiences.
Integration Options:
Both PrestaShop and Magento offer integration options with various payment gateways, shipping providers, and third-party services. Nevertheless, Magento's extensive ecosystem provides a wider array of integration options, facilitating seamless connections with popular services and tools.
Third-Party Extensions and Plugins:
In terms of third-party extensions and plugins, Magento undeniably holds the upper hand. Its marketplace boasts an extensive selection of high-quality extensions and plugins developed by the Magento community. While PrestaShop also offers a range of extensions, they may not be as comprehensive as Magento's offerings.
Analytics and Reporting:
PrestaShop and Magento equip users with built-in analytics and reporting features, enabling the tracking of sales, customer behavior, and other crucial metrics. However, Magento takes reporting to greater heights, providing advanced capabilities and integrations with popular analytics tools, thereby offering deeper insights into eCommerce performance.
Conclusion:
The decision between PrestaShop and Magento hinges on your unique requirements and business needs. If we can help you make a better decision, we can summarize that PrestaShop is better for small and medium-sized businesses. Whereas, Magento can accommodate small to medium and large-sized enterprises. PrestaShop is recognized for exceptional multilingual support, whereas Magento is a game-changer for setting up a multiple-store website.
FAQs (Frequently Asked Questions):
Q1: Can I migrate my online store from PrestaShop to Magento?
A1: Yes, it is possible to move your PrestaShop store to Magento. Similarly, if you want to migrate from Magento, you can take it smoothly to PrestaShop. Doing it yourself is tricky and complex, which is why you need to seek assistance from professional developers and digital agencies.
Q2: Which platform is more suitable for a beginner with no technical knowledge?
A2: If you possess no technical knowledge and prioritize a user-friendly platform, PrestaShop would prove more suitable. Its intuitive interface and straightforward setup process cater well to beginners.
Q3: Does Magento offer better multi-store management capabilities?
A3: Certainly! Magento provides advanced multi-store management capabilities, enabling the seamless management of multiple online stores from a single admin panel. This feature proves particularly beneficial for businesses housing multiple brands or product lines.
Q4: Can I use third-party themes and templates with PrestaShop and Magento?
A4: Both PrestaShop and Magento support third-party themes and templates. Users can choose from a wide range of options available in their respective marketplaces or even develop custom themes tailored to their requirements.
Q5: How often do PrestaShop and Magento release updates?
A5: PrestaShop and Magento get regular updates from their development house. Both platforms are up to date with the latest functionality, security patches, speed and performance, and advanced features. if any feature is not available by default, one can have it by third-party developers in the form of extensions and modules.