Wed Aug 31 2022
Steps for Education App Development Like Duolingo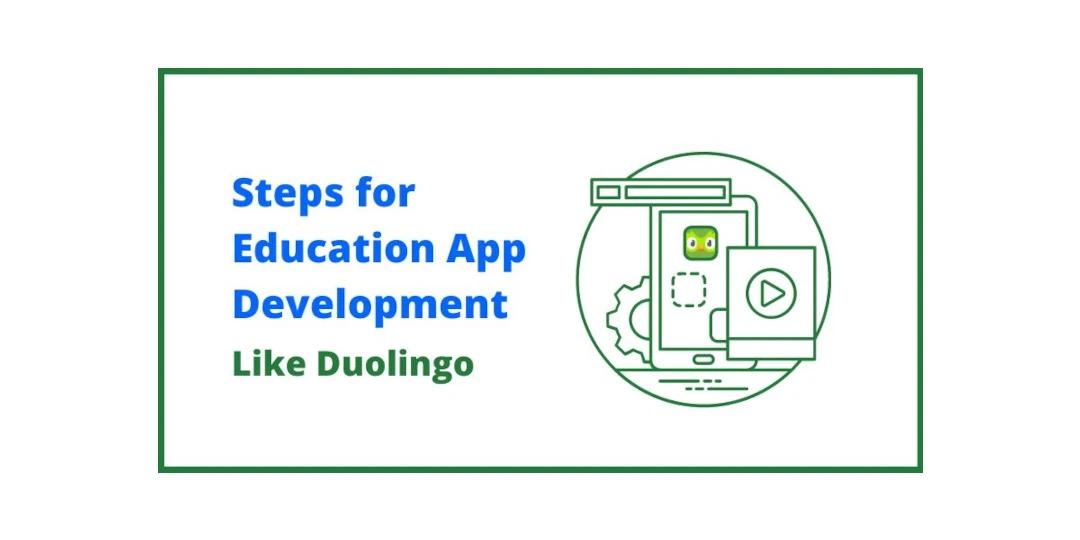 The digitization era has given a huge rise to mobile app development, and every business owner from various industry niches is investing in mobile app development. Mobile apps have been here for a while for almost everything, from online shopping to ordering food online, watching movies/series, and more.
Technology advancement has also revolutionized the way of teaching and learning, where learning is no longer limited to classrooms. The development of education apps like Duolingo has made a fun learning environment for students. In short, the educational industry is also reshaping itself and becoming more advanced.
According to Statista, the total revenue in the education sector reached $7.08 billion in 2022. Entrepreneurs are inclining more toward mobile app development for better business growth after witnessing the importance of educational apps. So, if you are also planning to develop an educational app like Duolingo, you are doing the right thing.
If you want to know how to create an educational app, read this blog till the end.
The blog has mentioned the four significant steps to developing an educational app like Duolingo.
What Is Duolingo App?
Duolingo is one of the well-known educational apps where users can learn about any language on web & mobile platforms.
The app has more than 30 languages that all age groups can access. Duolingo app supports creativity; that means users can learn any concept via games or different exercises. The app also has an advanced guidebook that gives users an insight into future learning.
Features of Duolingo App:
The courses on Duolingo are free. A freemium plan is accessible without advertisements, but all users have the same features and course materials. Although there is a growing market for language learning software, it is also clear that most individuals cannot devote many hours a day to studying, so it is difficult to justify paying for a platform. People naturally prefer free subscriptions as well.
The interface of Duolingo is clear and appealing. It's challenging to find a language learning program with a user interface as clear and simple as Duolingo's.
A complete online language learning system is Duolingo. It easily outperforms the competitors in terms of its course content's scope, diversity, and accessibility.
Steps of Educational App Development Like Duolingo
Choose a Suitable App Platform
Selecting a suitable app platform as per your business requirement is the first step in establishing an educational app like Duolingo. Business owners often face difficulty while picking between the iOS and Android platforms.
Choosing the best app development platform is crucial since it will be the first step in the success of your education app. When this happens, you might consider using educational app development services, where professionals will help you select the best platform based on your business requirements and budget. Choose accordingly.
Use Advanced Technologies
It is now time to apply cutting-edge technology appropriately after selecting a platform for app development that is appropriate for your company. Every platform uses different technologies, each with a different price tag.
For instance, Java or Kotlin are two possibilities available to you if you want to create an educational app for the Android platform. Swift, however, is the most widely used programming language on the iOS platform.
Create Unique UI/UX
Designing an aesthetically pleasing (but engaging) app is one of the innovative ways to draw in your target audience. An educational app must have a distinctive UI/UX because a mobile app with a poor user interface won't draw the expected number of users.
Make sure the educational app development company you hire adheres to the following criteria.
Usability of the app
dynamic wireframe
Visuals that are appealing to the eye
Architecture for Information
Start the process of developing an app.
After completing the procedures mentioned above, you may finally proceed with developing educational apps. Designing the MVP might help you gauge how well your software will sell or how the intended audience will use it.
The developers will do the coding and create your app at this phase. Additionally, it's a good idea to provide part of the language-learning classes for free in order to draw in new students.
Conduct Robust App Testing
After creating an educational app, thoroughly test it to prevent any problems or errors. Following the development phase with rigorous testing makes finding errors that can be quickly fixed. Make sure the user has a seamless, error-free experience if you want your app to stay on the user's phone for longer.
Conclusion
Since there is such a strong need for educational apps, practically every business owner is working on creating one.
Therefore, creating a distinctive educational app that will set you apart from your competitors is essential. To create highly useful instructional software, you might think about combining all the above-mentioned steps.
Author Bio

Steven Martin is a senior app developer at AppsChopper, who is not only passionate about coding but also likes to share his knowledge via writing unique content. He is dedicated to his work and stays updated with all the latest technologies trending in the market.