Tue Jun 28 2022
Different types of file compression and archive formats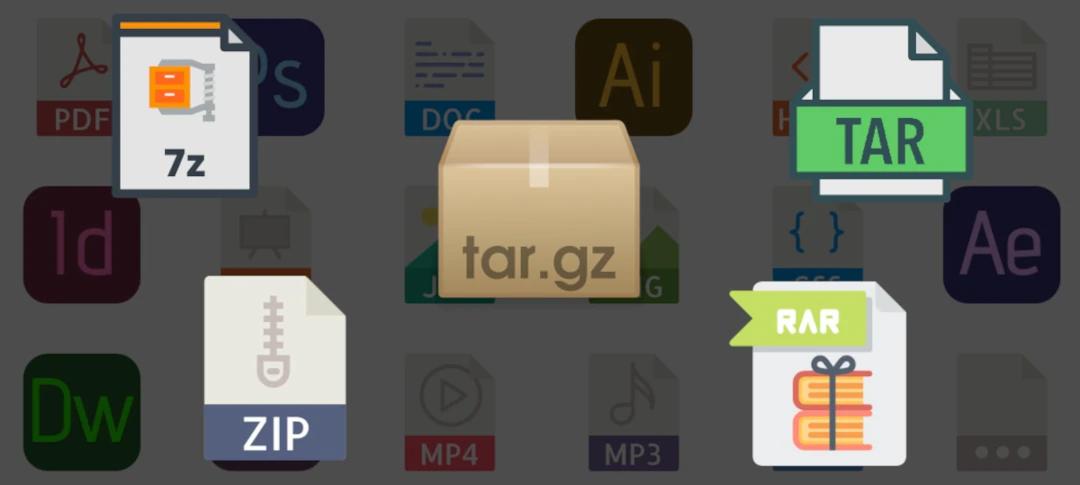 If you are a computer user then you might familiar with the file compression and compressed file formats. We can use any compressed file formats, but not always sure how they work and what is their difference. We always use without knowing them. Most of the time it creates confusion between a compressed file and an archive file format to do the task and cannot understand which one is perfect. Generally, both compressed and archive file formats have quite similar functions. So, it's necessary to know about file formats to perform the task perfectly in the first attempt.
File compression
File compression is a process in which all the selected files become compressed in size and it is a very simple and safe process to compress a large file. You probably know that compressed files take less space than other files to be stored on the storage drive and it can be easily and quickly shared over the network. It also provides protection by encryption function and always required a password to decrypt/decompress them.
An archive file
An archive file is a composed of one or more computer files with metadata. It used to collect multiple data files together into a single file for simple portability and storage. It also used to free out the storage space. Most of the time this process frequently used for packaging software for distribution. Archive files can store the directory structures, detect the error and rectify them, arbitrary comments, and sometimes use built-in encryption.
Now, we are going to discuss five compressed and archive file formats which are very popular among computer users and you can freely use any of these file formats on MacOS, Linux & Windows.
ZIP
ZIP or Ziczac Inline Pin is a very popular archive cum compressed file format. It is commonly used for data compression. It contains one or more files and directory and uses .zip as a file extension. A file can be created by using WinZip, WinRAR, and 7-Zip application and only extracted by these particular applications. It uses DEFLATE compression method. It is widely used in all Windows, MacOS, and Linux.
RAR
RAR or Roshal Archive is another file format and it is more popular than ZIP format. This file format used for data compression as well as error recovery and also for file spanning. It can store multiple files and it uses .rar as a file extension. This file format can be created by using the WinRAR application and extracted by WinRAR or WinZip application. The RAR file format is supported by all existing operating systems.
TAR
TAR or Tape Archive is used to combine multiple files into a large archive file. This file format is commonly used for archiving and distribution of software packages. It also preserves all the informative file system such as - user and group permissions, dates and directory structures. It uses .tar file extension. This format can be created by TAR application and mostly used in UNIX and Linux system.
TAR.GZ
TAR.GZ file format is made with TAR Archive format and GZIP (GUNZIP). This is an archive file format while GZIP is the most common and popular compression application. It also is known as a compressed TAR file. The file contains a bundle of files, which are combined by using file-based compression schema. It uses .tar.gz file extension. This file can be created and extracted by both TAR and 7-Zip application. It is highly supportable with Windows, Mac, UNIX, and Linux.
7Z
7Z is popular among computer users and commonly used for data compression and encryption. It offers higher compression ratio than the other archive format. It is the most recommended archive file format. It uses .7z file extension. The 7-ZIP application is essential to open, create and extract a 7Z file. This file format is highly supportable with all the major systems in the market.
The differences between above mentioned file formats
ZIP file format is basically widely used to group files for single downloading over the Internet. But tar.gz compress better than zip, but it takes a longer time to compress the file. Where RAR is the only format which creates RAR files and also split up compressed archives into multiple parts which can not be done by others.
TAR can compress multiple files into a single tar file, where ZIP can group multiple files but only good for single file compression. But tar.gz is also better than tar because tar.gz can be created and extracted by multiple application like TAR and 7-Zip. So if you get a compressed archive, you have to use combining the two. At first, you can use tar to get all files into a single file or "archive.tar" format, then go through gzip to archive.tar.gz format. In case of 7z, it's much better at compression than zip, which can save your space.
In the end, you can choose any above-mentioned method but choose the one which gives you better value. Hope, this article gives you a better view of all the popular compression and archive format. Apart from this list, if you find any other better compression file format then don't hesitate to share in the comment section below. Thank you!