Mon Mar 20 2023
Why Does Your E-Commerce Business Need a Custom ECommerce App?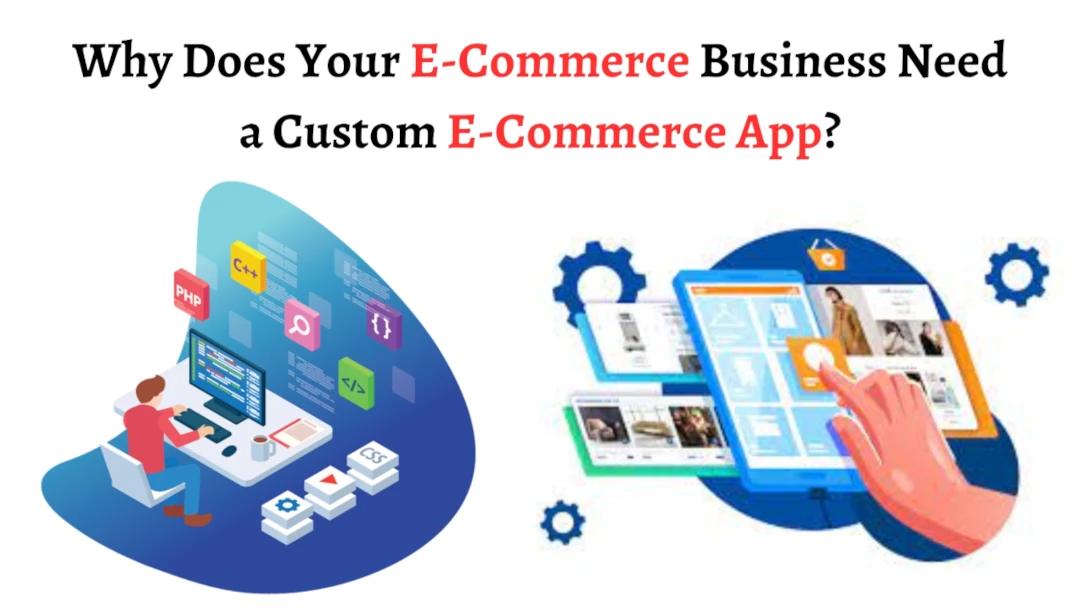 Are you a brick-and-mortar seller considering increasing your sales, expanding your customer base, and boosting your brand?
Yes! It's all possible with the development of a custom E-Commerce app for your business.
The traditional retail market is rapidly evolving towards this solution due to changing customer expectations, technological advancements, and the rise of omnichannel commerce.
Look at the stats given below:
As per Statista, retail E-Commerce sales are forecasted to reach approximately 710 billion U.S. dollars by 2027.
It's clear from the above stats that people are shifting towards online stores instead of traditional stores.
Hence, with customer mindsets constantly changing in today's digital age, it's necessary to have a custom mobile app.
But how to create a robust and unique E-Commerce app?
Well, you can take the help of a reliable E-Commerce app development company to create a well-planned mobile application to identify new opportunities.
Also, here are some benefits of having a custom E-Commerce app for your business.
Top 9 Reasons Why Your E-Commerce Business Needs Custom E-Commerce App
1. Improved Customer Experience
An essential reason for creating a custom E-Commerce store is improved customer experience. With a custom app, you can tailor the design, functionality, and features to meet end users' specific needs.
Also, a custom app can provide personalized recommendations based on customer browsing and purchase history, improving customer engagement and satisfaction.
By providing a seamless user experience on your custom app, you can encourage customers to return repeatedly.
2. Enhanced Brand Reputation
A custom E-Commerce app can help businesses establish their brand identity by incorporating unique features like livestream shopping, Google Analytics, branding elements, and user interface design. It can help differentiate the brand from competitors and make it more memorable in customers' minds.
As people now spend most of their time on mobile phones, a custom app can help you connect with users quickly and make your brand more recognizable.
By utilizing push notifications, 24/7 customer support, and integration with social media platforms, you can effectively maintain the attention and engagement of your users.
In addition, a custom E-Commerce app can improve brand reputation by enhancing the customer experience and establishing a solid brand identity.
3. Increased Customer Loyalty
A seamless and robust custom app developed using excellent E-Commerce app development services can help increase your users' loyalty.
By having a custom app for your E-Commerce business, you can constantly remind users of your presence on their home screen.
You can integrate loyalty programs into your custom E-commerce store, offering rewards and incentives to frequent purchasers. It can encourage customers to continue shopping with your brand and increase loyalty.
With features like push notifications, you can also remind users of upcoming sales, new products, and discounts. These notifications can help you keep your brand on top of the minds of end users and enhance their loyalty.
4. Boost Revenues
Usually, mobile apps are more flexible and user-friendly, allowing users to access them from anywhere and anytime. This flexibility and comfort attract users to buy more frequently from your custom E-Commerce store.
An intuitive custom E-commerce app can provide a seamless and personalized user experience. It can offer a user-friendly interface, faster loading speeds, easy navigation, and tailored product recommendations, resulting in increased customer engagement and higher conversion rates.
Also, an interactive app provides a simplified and streamlined checkout process, reducing cart abandonment rates. It can help you convert more potential customers into paying customers, resulting in higher revenues.
5. Time-Saving
In today's hectic life, people prefer something that eases their tasks and saves time. Compared to E-Commerce websites, mobile apps load 1.5 times faster. In addition, data retrieval occurs in a blink of an eye and delights customers by providing them with a seamless shopping experience.
Custom apps allow you to automate various processes, such as inventory management, order tracking, and payment processing, which would otherwise have to be done manually. As a result of this automation, you can focus on other aspects of your business that are more important, saving time and effort.
6. Reduced Operational Costs
One of the top benefits of having a custom app for your retail E-Commerce business is reduced operational costs.
By creating your online store, you can automate order processing and shipping, which reduces the need for manual labor and eliminates the associated costs.
In direct sales, you will not need storage space. As a result, high operating costs are significantly reduced, and the entire process runs smoothly.
7. Helps You To Gain A Competitive Edge
Creating a custom E-Commerce app can give you a significant competitive edge by providing a unique user experience that sets you apart. It helps to tailor brand messaging, design, and features to your target audience's needs and preferences.
You can increase customer satisfaction, loyalty, and retention rates by building a mobile app that is easy to use, visually appealing, and offers a smooth and personalized shopping experience. It can ultimately lead to increased sales, revenue, and positive reviews, giving you a competitive edge in the market.
8. Assists in Marketing
Some people probably do not know your brand if you still don't have a custom mobile app for your business.
But with mobile apps, you can stay connected to the end users around the clock. These apps have changed how people interact with your brand, get details, and shop.
As more and more customers shop online using a mobile device, the number of mobile shoppers is rising. Thus, businesses should include such apps in their marketing strategies. By doing so, the brand can interact with its potential customers more effectively.
Additionally, with mobile apps, you can offer customers more effective deals, discounts, and coupons. It is ultimately helping to promote your brand.
9. Boosting Your Average Order Value (AOV)
When customers use mobile E-Commerce apps, their experience is enhanced, increasing their average order value (AOV). The purchasing process is more streamlined, making it more convenient for users, resulting in better outcomes than a desktop screen.
An immersive mobile app provides relevant and targeted recommendations to customers based on their browsing and purchase history. It can encourage customers to add more items to their cart, leading to a higher AOV.
Also, with a custom E-Commerce app, you can offer a seamless and user-friendly checkout process with options such as stored payment information and express checkout. It reduces friction during the purchasing journey, leading to a higher likelihood of customers completing their purchase and, ultimately, a higher average order value.
Final Thoughts
It is essential to have a custom E-Commerce app to stay ahead of the curve and provide customers with seamless online shopping experiences. By implementing such an app, businesses can improve the customer experience, ultimately increasing revenue.
If you still don't have a customized E-Commerce app for your business, it's time to take action. You can hire mobile app developers to create a unique app that sets your business apart. The team will also provide support and maintenance services to ensure the app's successful launch.
Hence, investing in a custom E-Commerce app can be a game-changer for your business. It can help you stand out in a crowded online marketplace, improve customer engagement, and increase sales.
Author Bio
Tom Hardy has over five years of experience as a senior software developer at SparxIT. In his free time, he often writes about leading technologies like Blockchain, Node, ReactJS, and the latest technology trends.