Mon Aug 07 2023
WonderFox HD Video Converter Factory Pro Review 2023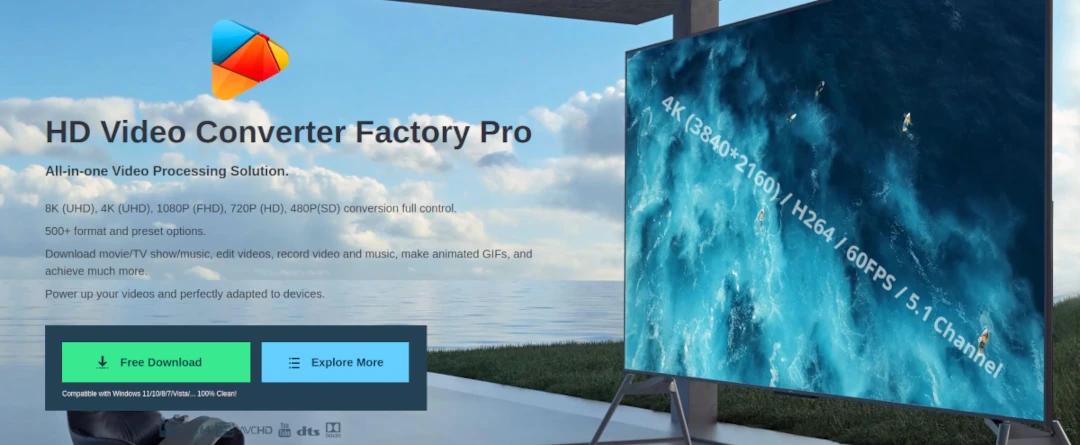 With the advent of a plethora of handheld devices such as tablets, smartphones and other digital devices. Different devices support different video formats and resolutions, causing some devices to fail to play videos.
Therefore, people often face video format compatibility issues or screen resolution issues. In order to make these videos or movies compatible with our mobile phones and tablets, there is no doubt that we need a good video converter, because it can convert videos according to the resolution and format we need.
However, in the market, you will find a lot of such free and paid video converter tools. Most of these converters are not good because most of these tools lose video quality after conversion.
There are a few converters worth checking out, one of which is WonderFox HD Video Converter Factory Pro. It is one of the best video converters on the market today. It is not just a video converter, but also provides some additional functions besides the converter function.
Besides being just a video converter, it also supports many other features like converting video formats, downloading WebM videos, converting videos from 2D to 3D, audio ripper, etc.
WonderFox HD Video Converter Factory Pro Features
It can convert videos at 30X faster video conversion speed.
Videos can be converted to MOV, M4V, MP4, WMV, MKV, AVI, XviD, MPEG, FLV, 3GP, etc.
It provides default settings for iPhone/iPad/iPod/Samsung Galaxy/HTC, Windows Media Player/Movie Maker and other popular devices and applications.
It supports one-click video downloader to download any video streamed online by simply clicking the button added on your browser.
WonderFox HD Video Converter Factory Pro is also equipped with a media player that supports almost all audio and video formats, including HD videos.
User friendly
The most critical part of any software is the interface design and how user-friendly the software is. when using the software.
Quality
As an end user, we are always concerned about the video quality we get after converting our videos. While performing some video conversions for mobile and tablet devices, we found that the product does exactly what it claims.
We can easily convert videos with faster conversion rates without any loss of video quality and with maximum utilization or optimal use of system resources. To its credit, the entire video conversion takes significantly less time compared to other video converters.
In addition to video conversion, we also tested basic video editing functions, such as cutting, merging, rotating, trimming, cropping, watermarking and some excellent effects. We are able to edit and convert videos without losing video quality. In fact, the conversion of video quality is much better than our expectation.
Final words
WonderFox HD Video Converter Factory Pro really lives up to its name. It is a powerful yet easy-to-use software that can fulfill any video conversion requirement. As the ultimate product for all video related needs, it basically offers more than basic video conversion features. As a final conclusion, we say definitely have one installed on your system for all video or movie conversion requirements.