Mon Nov 14 2022
Best alternatives of Google search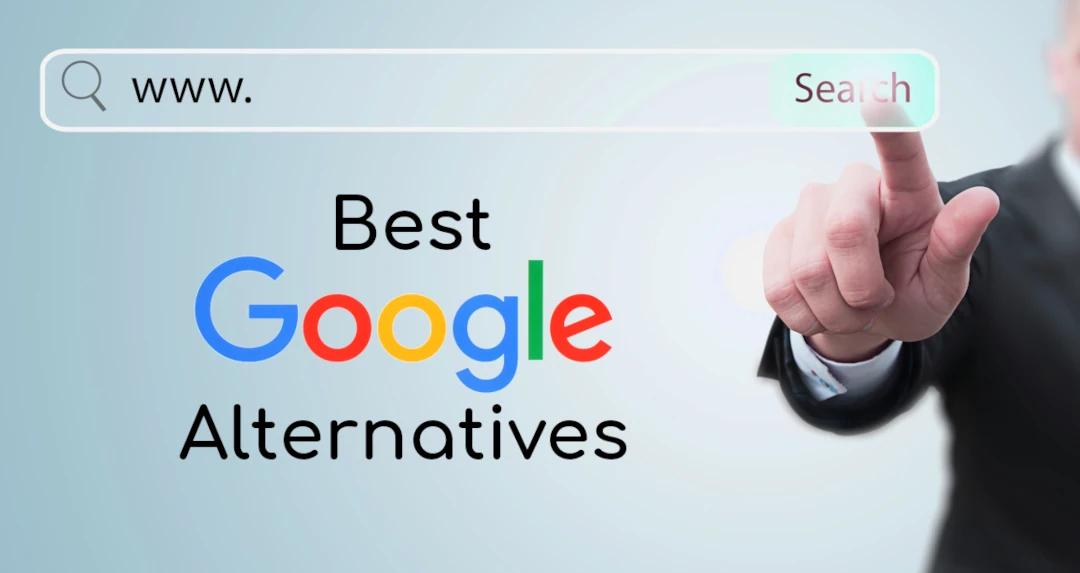 As today's tech world, Google is the most popular search engine out there, securing a whopping 90% market share of search engines worldwide. The search giant uses powerful and intelligent algorithms along with AI implementations that offer a seamless and personalized experience for users.

Besides Google, there are many search engines that have so much to offer; not just in terms of privacy but also useful features too.
So, if you are looking for search engines that are equally good, here is a list of best Google alternative you can check out and take at least one try.
Let's see the list -
DuckDuckGo is one of the fastest growing web search engines, which has gained particularly because of its plans on maintaining user privacy. DuckDuckGo aggregates its results from many different sources and it does not keep track of your searches, to show you personalized results. This is entirely open-source and the code is even available on GitHub.
The second most popular search engine is Microsoft's Bing, securing a good hold in the online market. It is more of a visual search engine offering different tools to users for a better experience. its homepage has an ever-changing background displaying beautiful pictures of animals, places, sports, people, etc. For video search, it displays a grid of large thumbnails that offers a preview if you hover over them and plays it on the same page with a single click. Bing features ads and abilities such as conversion, translation, spell check, sports score, flight tracking, etc. Bing also has mobile apps on Android as well as iOS and stands as one of the best Google alternatives.
It has the same excellent video search as Bing, but that's about it. It's worth noting that if you're a FireFox user, Yahoo won't track your activity if you have your 'Do Not Track' feature enabled in your browser, thanks to an agreement with Mozilla. It even relies on Microsoft's Bing to fuel its search results, so if you're using Bing, there's little point moving to Yahoo.
Wiki.com is the perfect search engine for those who appreciate community-led information as found on sites like Wikipedia.
This is a Russian portal, offering many similar products and services like Google, and it's the dominant search engine in Russia. It offers results in a nice logical format, replete with favicons so you can clearly see the various channels for your branded queries.
Launched in 2009, Ecosia is a Co2-neutral alternative. With every search made, the social business uses the revenue generated to go towards its tree-planting scheme. On average, 45 searches are needed to make a single tree. As more of our computing moves into the cloud, users are becoming increasingly aware of the environmental impact of day to day digital activities.
This private search engine uses local encryption to secure your searches. It combines AES-256 encryption with Secure Sockets Layer encryption. Search Encrypt then retrieves your search results from its network of search partners. After you're done searching, your search terms expire so they are private even if someone else has access to your computer. Search Encrypt recently added more new features, including privacy-friendly videos, news and maps search. Its videos search lets you watch videos directly on the search engine with additional privacy protection, and without pre-roll ads.
Qwant is another privacy oriented search engine that is based in France. The website claims to never to record your searches or harvest your personal data for ad-targeting. As a privacy-focused search website, Qwant sports many features similar to DuckDuckGo.
Another Web Search engine that takes on all the privacy issue associated with the Google search engine is IxQuick. This web search engine stores none of the user-specific details; no cookies, no query saving, etc. IxQuick only makes use of preferences, which the user can choose and they get deleted after 90 days of inactivity. These preferences can also be exported as a Bookmark, making the use of cookies pointless and unnecessary.
CC Search should be your first stop on the hunt for many types of copyright-free content. This search engine is perfect if you need music for a video, an image for a blog post, or anything else without worrying about an angry artist coming after you for ripping off their work.
Another search engine that puts privacy at the forefront, StartPage was the first search engine to allow its users to search privately. With StartPage, none of your details are stored and no cookies are used, save for a single, anonymous cookie that's used to remember your preferences.
Continuing in the spirit of accessible content, Internet Archive is a vast collection of documented material – including music, books, video, educational texts, and more. It is also home to the endlessly fascinating Wayback Machine, a tool which has been taking snapshots of the internet since the 90s.
Gibiru sources its search results from a modified Google algorithm. It provides reliable search results without all the tracking that Google does today.
Another metasearch engine that deserves a mention in this list is SearX. With an aim of making the internet more free and decentralized, this website doesn't gather your data and offers unbiased results from several sources. It retrieves search results from numerous sources that include famous ones like Google, Yahoo, DuckDuckGo, Wikipedia, etc. SearX is open source and available to everyone for a source code review and contributions on GitHub.
Dogpile is one of the oldest web search engines to curate information, links, images, and videos from other search engines. Dogpile curates results for your search terms by fetching links from Google, Yahoo, Yandex, and other such services. Some of the key features offered by Dogpile include Categories, White pages, Preferences, Search filters, Recent searches, favorite fetches and more.
Swisscows is one of the more unique options on this list, billing itself as a family-friendly semantic search engine. It uses artificial intelligence to determine the context of a user's query. Over time, Swisscows promises to answer your questions with surprising accuracy.
Stock photo from Beyla Balla