Thu Oct 06 2022
Do Graphic Designers Make Logos?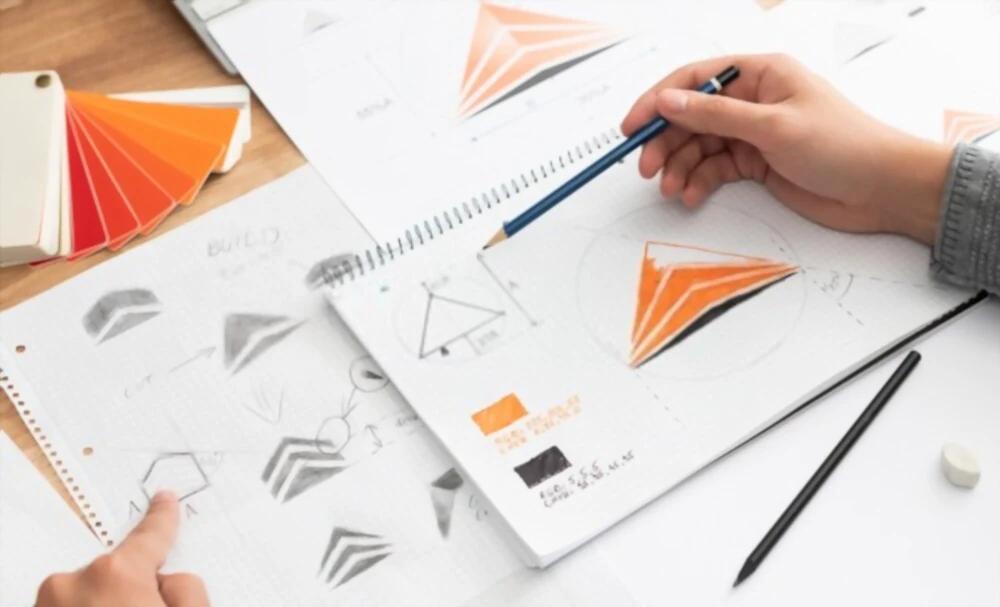 A logo design is a graphic product that a graphic designer can create. This is one more superficial gratitude. However, a logo is a visual product. Still, it has a significant commercial and advertising value, and a graphic designer who doesn't understand marketing principles cannot design an effective logo that can help grow your business.
A professional graphic designer who designs logos always work on design basics and structure and provides visual information for companies or brands to sell their services and products.

In summary, a logo is a graphic element representing the brand itself, and a brand is a combination representing all the perceptible and imperceptible features of a company or brand. Without branding, a logo has no real meaning and is just a graphic element.
What Is Common Between A Logo Designer and A Graphic Designer?
Logo and graphic designers are professionals in their domain
Graphic and logo designers have in mind the image of a design professional. They're right to some extent, but that's just a superficial thought. There is no longer just one designer because the design is a broad subject, and no one can be an expert in all areas of design.
No logo design is complete without graphic design
Graphic designers are good at creating logos. This is an apparent assessment. A logo is just a graphic design but has enormous business and promotion value. Designing a good logo is not possible if the graphic designer doesn't understand its importance.
Who is a logo designer?
A logo is a visual sign that quickly identifies a company, its services, products, or other organization. It's a way of setting up a business in a cramped, graphical environment to get our attention while all ads run. Logos include graphics, colors, symbols, and typography. This graphic element is part of the company's visual identity.
Who Are Graphic Designers, and Where Do They Work?
Graphic designers are visual problem solvers. They face challenges with artistic thinking and planned use of color, layout, images, and typography. Designers working on a wide range of projects from start to finish can work in:
Advertisement agencies
Marketing agencies
Website design and development agencies
Publishing agencies
Non-profit organizations
The Role Of A Graphic Designer
Graphic designers communicate concepts through art and technology using photography, web display architecture, and print pages. Various design elements can be used to create artistic or decorative effects. For example, they create final and production designs for posters, brochures, magazines, and corporate documents.
Designers use text and images in their work. It usually sets the font, text style, color, scale, and line length. They also decide how pictures and text will be placed on websites and screens and the size of each space. When text is used in formatting, the designer works with the writer to pick words and choose whether to use them in chapters or tables.
Their role generally involves:
Consult with their client or art director to determine the scope of a project.
Advise clients to target specific audiences.
Determine the message your design conveys.
Create models manually or using a software toolbox.
Create images that describe your product or convey meaning.
Create graphic, audio, or video files for product illustrations, labels, and websites.
Choose colors, images, text types, and layouts. Send the proposal to the client or artistic director.
Incorporate customer-recommended changes into the final version.
Before printing or publishing a drawing, check for errors.
What Makes Graphic Designers A Good Logo Maker
If you are considering hiring a logo designer, remember that not all graphic designers have the same skills and abilities to create excellent logos. For example, some designers focus on creating video content, others prefer to design info-graphics, and others are used to producing visually appealing print ads. A good logo designer must have different skills besides creating logos.
Types of Graphic Design
Logo Design & Brand Identity
Graphic designers who are experts in logo design and brand identity suggest and design new and effective visual expressions for new and existing companies and brands, their products, and services.

In addition to fonts and colors, logos are at the heart of brand identity with unique color, shape, and design choices almost everywhere, from websites to corporate buildings and commercials. When creating a brand identity, graphic designers can also create business cards, ads, and many other graphic design prints with an innovative brand identity.
Website Design & Mobile App Design
Designers can specialize in either of these two areas of graphic design as long as they know the standards and best practices of the medium they are designing for. For example, they create pages, layouts, application graphics, and websites in these positions and work with web developers to check design feasibility and proper functionality. It also helps them design the navigation and UI of your website or mobile app, creating permanency, command, and easiness throughout the pages and screens.
Print Design
Graphic designers involved in the printing design of newspapers, magazines, brochures, books, and posters look for the perfect balance of text and graphics to create beautiful, readable designs. Placing printed images and choosing fonts and typefaces are important for graphic designers, especially when dealing with a lot of text.
Packaging Design
Designers involved in packaging design have a hunger for designing 3D shapes inside and outside the package. Its mission is to create designs that protect products in transit, capture consumers' attention, and closely inform and convince shoppers. This type of project includes preliminary sketches, computer work, and a physical model to check all angles.
Conclusion
Logo designers are also graphic designers
The area of ​​logo and graphic designers is complex because the company's branding is entirely up to them. Some have a master's degree in graphic and logo design, but few meet the requirements. This fact is easy to relate to the ability of all graphic designers to create great logos and the ability of all logo makers to create a great visual design in that situation.
Author Bio:

Mack Chris is an SEO specialist with more than 5 years of experience in promoting and marketing brands in the digital world. He loves to read and share his digital marketing experience with the rest of the community. In his spare time, he enjoys drawing, sketching, playing football, and goes, swimming.