Thu Jun 15 2023
GPT-3 Chatbot Use Cases and Benefits for Your Business Website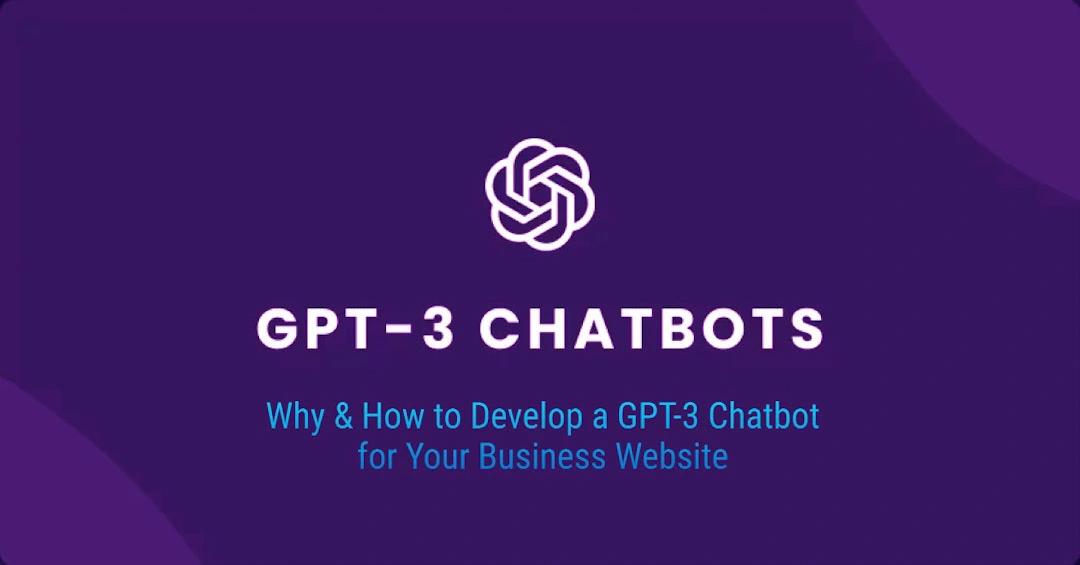 Technology is evolving at an unprecedented rate. This has raised concerns for businesses to keep up with the latest trends to remain competitive. GPT-3 is such an AI-powered technology that has revolutionized the way companies interact with their customers. GPT-3 is based on a machine-learning model that leverages a neural network to generate any type of text from a given input. Now, this can have a significant impact on how modern-day businesses can boost brand recognition and build better relationships with their customers. GPT-3 offers excellent scope for companies to take their customer service to a new level and develop long-lasting customer relationships. This post evaluates how valuable GPT-3 chatbot development can prove to be to bring more visitors to business websites and retain them with the best responsive customer support.
The Difference Between ChatGPT and GPT-3
ChatGPT and GPT-3 are the two most searched words on Google today. You must understand the basic difference between ChatGPT and GPT-3 capabilities before proceeding with the GPT-3 chatbot development.
Both ChatGPT and GPT-3 are large language models trained by the Open AI. Generative Pre-trained transformer (GPT) is a third-generation language model, and it is one of the most powerful language models that are currently available. You can also fine-tune this model for a wide range of language processing tasks like translations, text summarization, and responding to user queries.
ChatGPT, on the other hand, is a variant of the GPT-3 model and is not as powerful as GPT-3. It is specifically trained for chatbot applications and is much faster and more efficient than GPT-3. Although ChatGPT is a much smarter choice than GPT-3 for chatbot development, it is restricted to conversational responses. In this regard, GPT-3 is a much more sophisticated model, which can also conduct zero-shot transfer learning.
Use Cases for GPT-3 Chatbot
Most businesses often think that chatbot usage is only restricted to customer service. Even if a chatbot is programmed for customer service, it can be quite resourceful for marketing and sales and various other purposes. Before we proceed, let's take a look at the business areas where you can leverage a GPT-3-powered Chabot.
Programming
The best part of the GPT-3 chatbot is that it uses deep learning algorithms to understand the context of any given input and generate relevant text accordingly. GPT-3-powered bots have been used successfully to write front-end code.
Copywriting
GPT-3 can prove to be extremely resourceful to write essays, product descriptions, meta tags, and meta tiles for your website's product and landing page. You can certainly lend a great helping hand to copywriters with such amazing technology.
Translation
GPT-3-powered chatbots can benefit businesses in the translation sector or multinational organizations that target audiences from different countries. A GPT bot can easily translate large texts while maintaining the required coherence.
AI-based Voice Communication
You can transform your customer support with GPT-3 capabilities that can easily generate to-the-point responses for any given input or query. It can provide all the necessary information and allow your customer service executives to resolve challenges and hurdles faced by users to purchase through your website.
Marketing
When it comes to leveraging GPT-3 chatbot capabilities for marketing purposes, there are many ways it can help you. You can leverage GPT-3 chatbot data to offer personalized product recommendations based on users' previous behavior and purchasing patterns. Moreover, the chatbot can be used to analyze customer feedback and categorize them as positive, negative, and neutral responses.
GPT-3 Chatbot Development
Your in-house IT team can easily help you develop a GPT-3 chatbot. In case you don't have one, you can approach a trusted web development company to do this for you. However, irrespective of whichever way you consider, you must get acquainted with the basic steps:
Step 1: All you need is a server that allows PHP and JavaScript, an API key, and a PHP library. You can ask your hosting service provider to provide native support for PHP runtimes and allow JavaScript code on it.
Step 2: Visit the Open AI website and generate a GPT-3 API key. Now, you can use your PHP library to connect with GPT-3. GPT does not support PHP natively, but the dedicated community of developers has written PHP libraries to connect GPT-3 API with PHP.
Step 3: The web developers will then make asynchronous calls in JavaScript with the help of jQuery and train the factual data. The prompt examples must be examined carefully to ensure the relevance of the replies generated by your GPT-3 chatbot.
Step 4: At last, developers will display the chat history-making iterations in the current and past lists with the "message" function.
The above steps depict a simple and swift process to integrate a GPT-3 chatbot into your existing chatbot or create a new one for your site.
Benefits of Implementing GPT-3 Chatbot
Besides the technical details, you might also be concerned about the business benefits that GPT-3 chatbot can offer to your website. So, here are some major benefits that you can avail of from going ahead with GPT-3 chatbot development.
Faster Time-to-Market
You can use a GPT-3 chatbot to create a website layout, code additional features to your existing website, create appealing marketing copies for products, and even post blogs frequently. The process automation that you get with GPT-3 chatbot will certainly speed up the time-to-market for any such product.
Enhanced Customer Experience
Using GPT-3 chatbot in customer support can help you provide immediate solutions to general queries and challenges. This will also help your brand develop a huge customer base as modern-day users prefer instant solutions to their concerns.
Reduced Costs
By implementing an AI model like GPT-3, you can eliminate spending extra money on hiring customer support executives and paying them for double shifts for round-the-clock support. Besides this, it can also help you save money on gathering data from external sources as you can use its data to evaluate current customer behavior and purchasing patterns.
Market Expansion
GPT-3-powered chatbots can translate texts into different languages. This makes it easier for you to expand your reach by offering product descriptions and customer support in different languages.
GPT-3 Chatbots- Making Way to the Future
Technology geeks and experts consider GPT-3 a transforming aspect of the future of chatbots. Open AI is constantly working to make this tool more versatile, precise, and intuitive. Additionally, the natural language processing (NLP) system is expected to emerge as the most revolutionary model that can transform chatbot applications to a significant level and make them fit for offering personalized services. GPT can also learn from its experiences and improve over time based on which we can predict a great future. The future of GPT-3 will also be most likely to be affected by the way we continue with the developments in language modeling.
Bottom Line
A GPT-3 chatbot can prove to be a game-changer for your business allowing you to improve various operational aspects along with maintaining better relationships with your customers. Soon, AI-based models are certain to become increasingly dominant in both business activities and the daily lives of people. Hence, you must start planning on the strategic implementation of automated models in your business to drive more efficiencies and productivity besides offering exceptional customer experiences.
Author Bio: Nathan Smith is an experienced web and app developer, currently working with TechnoScore- a leading mobile app development company. As a technology enthusiast, he is passionate about sharing his web and application development knowledge through his articles. Nathan keeps himself up-to-date with all the latest trends, innovations, and disruptions happening in and around the IT industry. He is also keen on sharing his ideas and understanding of the innovations in the IT domain with individuals and entrepreneurs interested in the trade.