Sun Jan 31 2021
Pros and Cons of shopify as e-commerce platform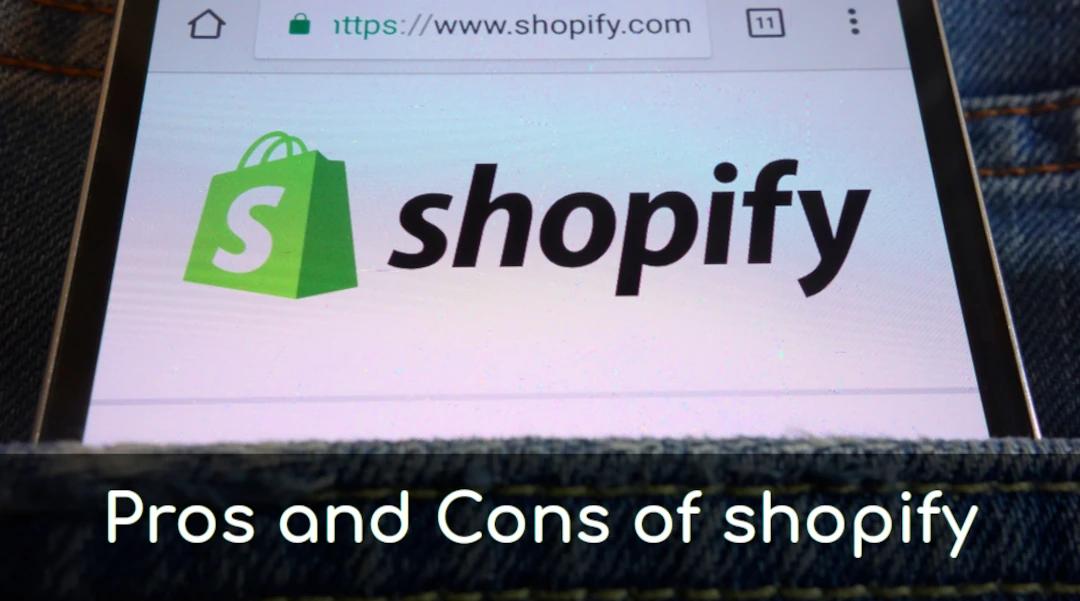 There are a lot of things you need to take care of when managing an eCommerce website. For example setting up a template, adding products, adding prices, promotions, and etc. Shopify makes all of these process easy and intuitive for its users, regardless of how experienced or inexperienced you are. Shopify is an excellent solution for your already established eСommerce business as well as for those of you who are planning to build your online shop. It provides you with a wide range of templates that can be customized to meet individual users' branding requirements, and it allows either physical or digital goods to be sold. It's an eCommerce platform that allows you to market and sell your products worldwide. More importantly, it helps make daily eCommerce operations a lot easier to handle. Shopify, with over 2 million merchants, is great for handling complex tasks such as inventory management or managing an eCommerce store with active sales and customers. Shopify design and development is beneficial to marketers and developers alike.
There are some pros and cons to the approach.
So, let's check that -
Features
1. Speed and security for hosting
Shopify allows you to turn that side of the business over to the pros and just let them worry about hackers, caching compliance, and a whole range of issues that come with hosting an online store. Shopify can do things like pay bounties to security researchers to hack-proof their systems. Shopify is safe and legit. They are a publicly traded company with huge investments in software & security engineering. Shopify can handle speed & security at a "global" platform level – they can do it especially well. They provide 100% SSL, keep their sites screaming fast, and integrate with payment providers well so that you can always get paid, and customers are never waiting for their page to load.
2. End to end service integration
The workflow for Shopify is so convenient it just works with a bit of tweaking out of the box. In comparison, none of its open source peers could provide this kind of convenience without some rather extensive customization.
3. Great Customer Support
Customer support is one of the top reasons to go with something like Shopify. When you are building it and running it yourself – you have no one to turn to, except developers and often unresponsive online forums. With Shopify – you get answers fast. And all customer support experiences with Shopify have been really fast, correct, and helpful – from both a developer and store owner perspective. They have a huge database of FAQs, email/chat support…and phone support – with a real, knowledgeable rep on the other side.
4. App integrations with SaaS services
SaaS e-commerce service companies love Shopify because they have a customer base that is familiar with paying for services monthly. That's why you'll most probably always find whatever innovative new service you need on Shopify first before anywhere else, and some of them offer very good free plans.
5. Options for storefront themes
Among Shopify's top advantage are the beautiful storefront themes they provide. They make a website look beautiful and professional, which helps you retain customers. Shopify provides merchants with several theme options for their store. You have the option to filter them and choose whether they are mobile-only or responsive as well as use free or paid themes.
6. Extensibility
Shopify has an active development community and marketplace to help meet your needs. Free and premium Themes are available and can be extended by using the built-in Theme editor.
7. Shopify app store
Shopify has over 1,200 different apps that can help you automate your tasks, which allows you to focus on other important such as marketing or increasing your sales. There are several apps available to assist you with accounting, customer service, inventory, reporting, shipping, and more. These tools will simplify your life by providing you with the technology to scale your store.
8. Incredible support team
Shopify has an incredibly dedicated support team. They are available to you via live chat and email. You can also call them 24/7 via four different numbers, depending on your region.
9. Multiple payment processors worldwide
Shopify comes with inbuilt payment services like PayPal, Amazon Pay or Apple Pay. Your store will also be able to accept direct payment via credit card using Shopify Payment, which makes the shopping process smoother for your customers. Shopify integrates with over 100 different payment processors in different currencies. Making your customer payment process easier.
10. Sell digital and physical products
Shopify allows you to handle both digital and physical products at the same time. They offer a free app that you can use to specify the types for your products. You can categorize your products as digital and handle those particular deliveries through email or downloadable online storage. You can also set the type of shipping and fulfillment for each product if you're dealing with physical goods.
11. POS system
You can integrate Shopify POS (Point-of-Sale) into your physical shop and the data will then be shared between the POS and your online store. With Shopify POS, you can manage your sales, inventory, customer data, etc, online and offline, on a single platform. Merchants who choose to subscribe to Shopify POS will receive a full POS system, along with its devices.
12. Useful add-on
You can extend your store with over 1,200 Shopify adds-on. All of them are available from the Shopify app store that helps you to better manage different aspects of your online store such as inventory, customers, shipping, marketing and more.
Drawbacks
1. Pricey
Shopify costs money; both in terms of transaction processing fees and monthly rental. So, if you are looking for something free, then Shopify is not for you. It can be a bit pricey.
2. No email hosting
External email hosting is needed while the domains can still be purchased in the Shopify's interface. It would be quite difficult to find a platform capable of setting up an online store that has it all.
3. Crop ratio
Sometimes product images are displayed in different aspect ratios which may lead to the messy presentation of products.
4. PHP language for customizing theme
Shopify platform uses their own-developed PHP language called "Liquid". All themes are coded in this format. It makes the theme customization harder unless you know how to code in Liquid or hire a developer who knows how to code Shopify themes.
5. Manually intensive
While Themes and 3rd party Apps can provide additional functionality, there's always the possibility that a particular App could not work with your Theme or require modifications to the Theme to make it work. Many of the more useful App integrations require a monthly fee, which can start to get pricey after adding a few of these to your store.
6. Content management
Well duh. Shopify is not a content management system and its optimized for selling products. If you want to add a lot of rich content like videos, carousels than Shopify is not perfect for that.
7. Lock in
It is not the best when it comes to migrating your store. This is something you have a plan prior to starting your online store. It does provide CSV for exporting all products but is not the best.

In all aspects, say that Shopify is still a great platform to use for eCommerce, but the decision of what you choose ultimately comes down to your individual business needs.
You can share your experiences with us in the comment section. Thank you!
Stock photo from Piotr Swat