Sun Feb 05 2023
IP Puller Lanc Remastered Free (PSN & Xbox Resolver)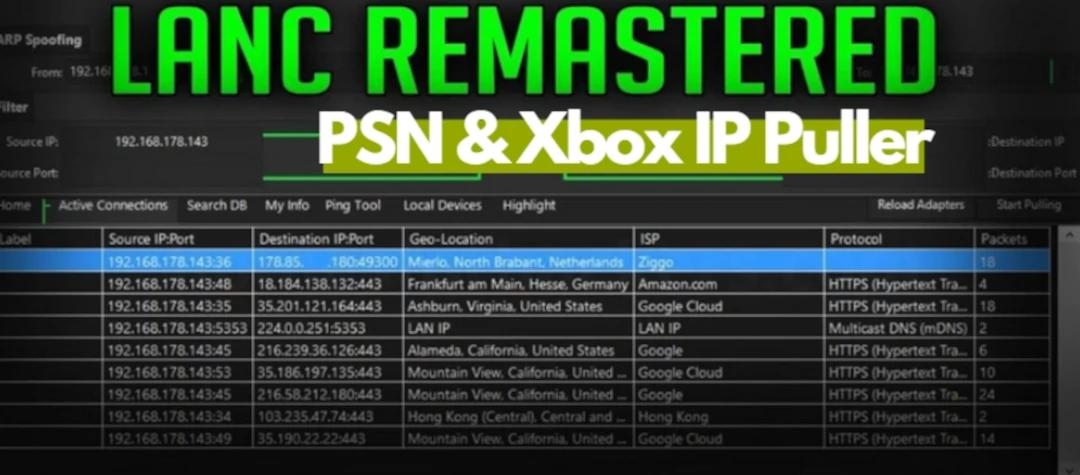 Resolve other players' IP addresses by downloading the free Lanc Remastered PlayStation and Xbox resolver.
A sophisticated and potent IP sniffer program for gamers, Lanc Remastered, reveals all the details of other players, including their precise geographic location. To compete against other players, PS4 and Xbox gamers can use Lance Remastered. This tool is among the greatest Xbox IP pullers because of its compelling and potent features.
Concerning Lanc Remastered
One of the most excellent PS4 IP pullers and booters for PlayStation and Xbox Resolver is Lanc Remastered, which changes the PS4 username to the device's IP address. It functions similarly to DNS, with each website having a specific allocated IP address that is reached when a user fills in the website's domain name in the web address. Please remember that this program differs from others used for network analysis, such as WireShark and Cain n Abel. Only the players can determine who is online and their IP address to select their location. It doesn't do any more network analysis like Wireshark.
Requirements for Lanc Remastered
Install the required software to get Lanc Remastered up and running:
C++ for Microsoft
WinPcap - Microsoft Silverlight
Any game console may play Lanc remastered, although the PlayStation 4 and Xbox One are the primary platforms.
A wired (ethernet) and wireless (wifi) connection is required for operation.
Geo Position: Keeps track of each connection's nation, ISP, and geopolitical location.
Customizable: Able to change the source and destination IP addresses and select particular ports.
Get Lanc Remastered IP Puller now
Download Lanc Remastered IP Puller for free by clicking here.
Check out another robust PSN resolver that is also accessible for no cost.
How to Use Lanc Remastered to Pull IPs
Lanc Remastered is one of the most well-liked IP pullers for PS4 and Xbox. This post will demonstrate how to grab IPs on your PS4 or Xbox using Lanc Remastered.
You must first get Lanc Remastered from the company's website. Click the "Create new" button in the software when it has been opened and downloaded.
Enter the IP address you wish to pull, then choose either "Xbox" or "PS4". We'll be utilizing a PS4 for this manual.
Once you select "Start," Lanc Remastered will gather all the participants' IP addresses from the game.
The "Results" page is where you can find the IPs after they have been retrieved. The IPs may now be copied and used for anything.
How to Setup Lanc Remastered on a Computer Running Windows 10/8/7 and Mac
On your PC, installing Lanc Remastered is relatively simple. You must first confirm that Java is installed on your computer in the most recent version. You can visit the Java website and download the most current version.
You must download the Lanc Remastered ZIP file after installing Java. You may do this by visiting the Lanc Remastered website and selecting the "Download" tab.
You must extract the ZIP file's contents when the download is complete. Use software like 7-Zip or WinRAR to accomplish this.
Once the ZIP file's contents are extracted, you will need to open up the "Lanc Remastered" folder. Inside this folder, you will find a file called "Lanc-Remastered.jar." You will need to double-click on this file to launch Lanc Remastered.
Once Lanc Remastered is launched, you will be able to connect to any game that is running the Steam network. To do this, you will need to click on the "Connect" button and enter the IP address of the game server that you want to connect.
You should now be successfully connected to the game server and be able to play the game!
Run Lanc Remastered: How Do I?
You must download and install the application on your computer before using Lanc Remastered. Once it has been set up, launch the application and select "Start." You will see a popup asking you to choose a server to appear. Click "Connect" after selecting the server you want to play on. After that, the game will begin to load. You can start playing the game after the loading screen has been cleared. Enjoy!